Monica Di Luca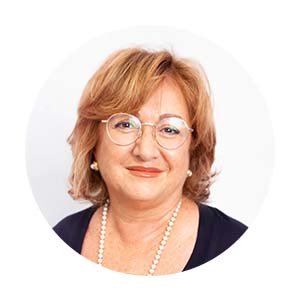 Monica Di Luca, University of Milano, Italy
Title
Role of NMDA dependent synapse-to-nucleus signalling in cognition
Abstract
Synaptonuclear protein messengers are fundamental players for the regulation of neuronal activation and morphology both in health and diseases. At the nucleus, synaptonuclear messengers control different transcriptional pathways involved in the modulation of synaptic transmission and structural synaptic plasticity. Importantly, NMDAR represents a privileged signaling platform for the synapse-to-nucleus transfer of information as a number of synaptonuclear protein messengers bind to different subunits of the NMDAR and the nuclear translocation of most of the synaptonuclear messengers is driven by the activation of NMDARs. The Ring Finger Protein 10 (RNF10) is a synapse-to-nucleus signaling protein that specifically links activation of synaptic NMDA receptors to modulation of gene expression. We used RNF10 KO mice and an AAV-shRNA mediated strategy to modulate RNF10 expression and gain new insight into the in vivo functional and structural role of this synaptonuclear protein messenger in hippocampal neurons in orchestrating NMDA receptor-dependent signalling and learning behavior. In vivo silencing of RNF10 in CA1 hippocampal neurons induced profound morphological and molecular alterations at dendritic spines strictly associated to its role as nuclear messenger. These events led to behavioral impairments in NMDA-dependent learning and cognitive flexibility tests.
Biosketch
Monica DiLuca has been professor of Pharmacology at the University of Milano since 1999. She is at present the Director of Department of Excellence of Pharmacological and Biomolecular Sciences of University of Milano. She is a member of the EMBO and has received major international distinctions and awards.
Her primary research interest is related to synaptic plasticity both in physiological and pathological conditions, with the primary aim to apply her basic findings to the cure of neurodegenerative diseases as Alzheimer Disease. Her discoveries enriched our understanding of glutamatergic synapse in physiology and pathology, increasing our knowledge on plasticity and memory and leading to new tools for neuroprotection. A prominent trait of Monica DiLuca's career is her deep and exigent involvement in sharing ideas over borders and establishing collaborative multi stakeholder networks merging scientists, clinicians and patients organizations. She has played a pivotal role in international organizations for neuroscience research in connection with societal challenges also serving as a member of Council of several national and international scientific societies.
http://eng.disfeb.unimi.it/ecm/home/research/research-labs/laboratory-pharmacology-of-neurodegeneration
---