Probing neuronal circuits during behavior - 2016
Linking activity of complex neuronal circuits with behavior is a key to understand how we store information, acquire new skills, and process sensory perception with cognition to initiate an optimal action in a changing environment. This critical question of Neuroscience has long been limited mostly because specific neural circuits and the computations they perform have to be identified, probed, and modulated in living animals during quantitative behaviors that engage these circuits. However, recent technical innovation from single-cell to large-scale recordings as well as modulation of neuronal spiking has brought out modern neuroscience by providing exciting toolboxes for neuroscientists.
For the first time, studying the causal relation between neural dynamics and behaviors becomes possible. Entitled "Probing neuronal circuits during behavior", this unique 3rd Bordeaux Neurocampus Conference will gather world-leader experts in optical microscopy, electrophysiology, optogenetic, and computations for measuring and manipulating synapses, neurons and neuronal circuits at the cutting edge of brain investigation in freely behaving animals.
The 2016 edition of these international conferences is scheduled from September 28th to 30th, and will take place at the Haut-Carré (Agora area) at Talence, on the University campus of Bordeaux, southwest of Bordeaux famous city. Around 150 attendees are expected.
The scientific programme of this meeting is based on plenary lectures made by world-class personalities coming from all over the world, several young scientists will be selected on their abstracts by the Scientific Committee to give a talk during the event, and Poster sessions will also be organized for informal exchanges among participants.
An exhibition room will host industrial stands providing an excellent opportunity to interact with firms and familiarize themselves with the latest technological advances. Stands of the companies and catering breaks will be in the same area to improve contacts between delegates and exhibitors.
The gala dinner proposed is organized at the Château Luchey-Halde, a prestigious vineyard located near Bordeaux in the Pessac-Leognan appellation.
This conference is organized by the Bordeaux Neurocampus Federation and the LabEx BRAIN. It is an event opened to the worldwide scientific community.
Looking forward to seeing you there!
The organizers
Frédéric Gambino, Cyril Herry, and Yann Humeau
The electronic book with all the abstracts submitted and the programme is available here ==>
=> Note that some travel grants will be available to help students or young scientists to take part to the congress. See details of the procedure on the Abstract submission page.
Download the flyer here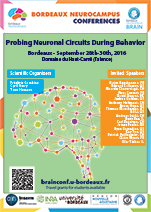 ---